Natural Products Upcoming Events Summer - Fall 2019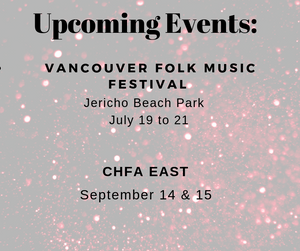 Vancouver Folk Music Festival

 
This summer you can meet us at the 
Vancouver Folk Music Festival on July 19 to 21.
 We will be proudly presenting our natural and eco-friendly products for both children and adults and you will have a chance to buy the products that you like. 
If you happen to be in Toronto on September 14 & 15, come and visit us at the CHFA East Event. We will be happy to present to you our products and you will get a great chance to buy any of our products without waiting for the delivery. 
PAST EVENTS 
Vancouver Baby & Family Fair x Vancouver Health Show - October 27-28, 2018

We showcased our premium natural baby and skin care products at the Vancouver Baby & Family Fair. Thank you to all participants who tried our spin wheel to win a random prize!
Taipei Baby & Maternity Products Fair - October 10-14, 2018
We'd like to thank everyone for the big and warm welcome at the Taipei Baby & Maternity Products Fair!
CHFA East - September 15-16, 2018
We had a great time at the CHFA East this year!  Thank you to all our retail partners visited us! 
Natural & Organic Products Asia - August 29-31, 2018

Our natural and organic products for baby, mom, and the rest of the family were a hit at NOPA 2018! 
Vancouver International Yoga Festival - June 16, 2018

We were proud to sponsor the International Yoga Festival and feature our products! 
Healthy Family Expo - March 18, 2018
At the Healthy Family Expo, we were happy to provide the natural essentials you need to keep your family healthy and happy!
CHFA West - February 24-25, 2018
We had a fruitful weekend at the CHFA West trade show!  We appreciate everyone who dropped by. 
Lifestyle of Health and Sustainability - February 1-3, 2018
It was our honor to accept the 2018 LOHAS Award for Best Natural Baby Skincare Product!  We had an amazing time at LOHAS 2018 in Hong Kong!
Leave a comment
Comments will be approved before showing up.