Watermelon: Beauty Benefits & Recipes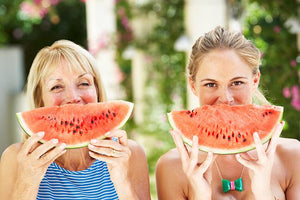 Food is among the most important essentials in our life. We need it to keep ourselves alive, retain our energy, and satisfy our nutritional needs. Here's another beautiful reason to stop by your local grocery store today: certain foods contain ingredients that are able to keep your skin healthy, supple and smooth.
Watermelon is one of them. It provides lots of essential beauty benefits. A rich storehouse of potassium as well as vitamins A, B6 and C; this juicy fruit is known to possess immense nutritional benefits:
Watermelon is an excellent source of anti-oxidants. Thus, it aids to fight the free radicals which are considered responsible for the occurrence of age-spots, fine lines and wrinkles.
Watermelon is loaded with Vitamin A that assists to reduce the size of pores on your skin and consequently, minimize excessive secretion of oil.
Watermelon contains 92% water, and it helps to hydrate your body and impart a healthy look.
The acids contained in watermelon have exfoliating properties to make your skin radiant.
Watermelon is a natural diuretic that facilitates the flushing out of toxins from your body gently and it cleanses your system to reveal youthful skin.
Watermelons are known to effectively prevent acne.
Watermelon has moisturizing properties that boost the moistness of your skin.
In this blog post, we are going to recommend simple and delicious recipes containing watermelon. All recipes listed here are courtesy of healthy diet expert Ms. My Nguyen, the author of My Healthy Dish.