Healthy Skin Care Routine - Tips and Tricks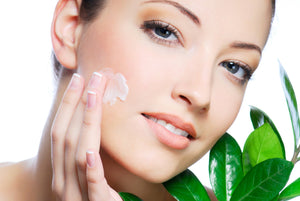 It can be really hard to establish a healthy skin care routine where all products would work together to benefit your skin. This guide will outline a simple routine that works for you and your specific skin concerns. Follow it step by step to see your perfect self.
Cleansing
First, cut out the makeup wipes. They are full of unnecessary chemicals and fragrances which can cause breakouts and irritation. Instead of the makeup wipes use sulfate free & gentle cleanser containing a blend of essential oils with antioxidant and astringent properties; and salicylic acid to help clear your pores.
Over-using your cleanser compromises your skin's natural oil. "It isn't necessary to cleanse in the morning and the evening," says esthetician Andrea DeSimone. "The evening cleanse is crucial to removing dirt, oil and makeup; but during sleep, the oils that your skin produces are hydrating and balancing, so they shouldn't be washed away in the morning." She suggests buffing skin with a wet cotton washcloth and alcohol-free toning in the morning instead of another round of cleanser.
Toning
The best toners refresh, shrink pores and are a great step that ensure that  you have removed everything off of your face. Vitamins and skin-repairing ingredients hydrate and replenish the skin's surface immediately after cleansing. They also help reduce redness and dry patches.
Exfoliating
Exfoliants are made to gently remove built-up dead skin cells, which otherwise would cause clogged pores, uneven skin tone, dullness, and deeper wrinkles.
But please don't over-exfoliate! It's tempting but highly damaging in the long term to buff away too much of your top skin layer. "You're actually removing the protective barrier that your skin has," says Dr. Ben Johnson. "Once removed, your skin is exposed to environmental toxins and sun damage, causing aging." Exfoliate two to three times a week, max.
Another big mistake people usually making in their skin care routine is exfoliating away oily skin. It's not possible, says Florida-based esthetician Crystal McElroy. "People think that if they exfoliate with different scrubs they'll eliminate issues like oily skin; but when your skin is over-scrubbed, the oil production actually speeds up because skin's natural repair mechanism is put into overdrive." Again, two to three times per week is sufficient for exfoliation.
Moisturizing
Used daily, moisturizers (cream, lotion, or oil) improve your skin's healthy functionality and keep it feeling smooth and soft. Dry, dull, or flaky skin will be replaced by skin that looks and acts younger!
Regardless of your skin type, it's imperative that you moisturize daily and apply a heavier cream at night, says Dr. Murad. "It's a common misconception that those with an oily skin should avoid moisturizers. In fact, it's vital that even oily skin gets moisture because without it, skin will overcompensate for the loss of hydration [with more oil], leading to breakouts and an uneven skin texture." Take note: Moisturizing adds water to the skin, not oil.
Treating/Targeting 
When Acne is your concern, research shows that natural treatment containing acombination of Salicylic Acid with Tea Tree oil, Aloe Vera and Grape seed, is an essential step for achieving clear skin. Use it with acne prone skin wash to see fewer breakouts and a reduction in large, red, swollen blemishes. Your acne will be reduced, and soon eliminated.
If you have Eczema or Dermatitis, choose topicals with Chamomile, Calendula, blend of Vitamins and Tea Tree oil, to relieve the itching and help skin healing and regeneration.
Targeting eye wrinkles, it's essential to apply creams filled with natural antioxidants and other anti-aging ingredients to combat signs of aging and help minimize dark circles, puffiness, wrinkles and crow's feet.
This is a simple skincare routine you can use every day to achieve clear and healthy skin. Go natural and see how your skin starts to love you back, You Deserve It!
Also try to drink more water and eat more fresh fruits and veggies containing Vitamin A, C and E for that perfect healthy glow!