Fall Skin Care Tips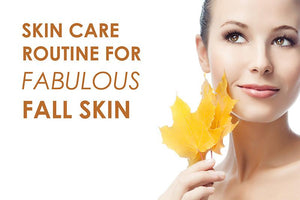 As the days grow shorter, the temperatures drop, and the air becomes drier, your skin may lose precious moisture. Autumn is a time of transition to prepare your skin for winter.
Follow these fall skin care tips for fabulous, healthy skin:
Reconsider your cleanser.
In the summer, fruity gels are a popular treat, but just be sure that your current favorite isn't going to dry out your skin when the dry cold weather comes in. You'll want to find a cleanser that is free of harsh chemicals and detergents as well as hydrating. In the fall and winter, we recommend to put away the gels and bring out a creamy wash.
Exfoliate with an oil-based scrub.
The summer sun and chlorine may have left your skin feeling dry and flaky. Start the new season off with a gentle exfoliation session. Oil-based scrubs are wonderful because they exfoliate and hydrate.
Switch from lotions to creams and body oils.
As the air becomes drier, your skin needs a thicker moisturizer. Creams provide a stronger oily barrier, which means they both reduce water loss from the outer layer of skin and provide hydration to this layer of skin at the same time. The best time to apply your moisturizer is right after you've dried off after your shower or bath. Seal in the moisture that's already been absorbed into your skin.
Treat the problems.
Acne breakouts and eczema flare-ups are increased during the fall months because the oil flow in the skin during the summer months is still occurring this time of year, yet the cooler air creates layers of dead skin cell build-up.