BEST ECO-FRIENDLY AND ORGANIC BABY SHOWER GIFT IDEAS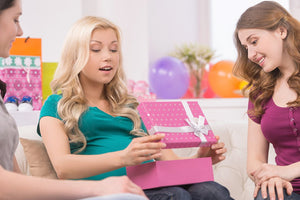 When the time comes to attend a baby shower for our close friend or family member; we want to give the best gift possible. There are so many baby toys, clothes and other gear to choose from. However, finding the perfect, safe and useful baby shower gift can be frustrating for many people. Don't worry, we have got you covered! Here is the list of the best eco-friendly, natural and organic baby shower (or birthday) gift ideas new parents will be happy to receive.
| | |
| --- | --- |
|   | Children develop through the use of their senses, and we can make sure that those learning experiences are safe and fun by providing them with organic, thoughtful toys to learn and grow. Choose toys made of organic cotton or wood finished with organic oil or non-toxic paints only. These toys are not only safe for small ones, they are good for the whole earth. |
| | Most organic clothing is made of organic cotton, without the use of pesticides and harsh chemicals. This helps to keep the planet, its farmers and its people healthy. It's also healthier for babies' sensitive skin. Cloth diapers are by far more eco-friendly than disposable diapers. You can tell when cloth is wet, so cloth diapers get changed more often – and that's healthy. Babies in cloth diapers benefit from more air circulation, less build-up of high temperatures, and are less susceptible to rashes.  Plus, cloth diapers are phlalate and BPA free |
| | Organics are the gentle way to treat tiny people's skin perfectly! The products from Deserving Health take the best of what the Earth has to offer, and packaged in perfect form. Nutrient rich, hypo-allergenic and full of natural botanical extracts and essential oils, Deserving Health Baby skin care products provide gentle moisturizing, nourishing and soothing properties. These cleansers, body lotions and creams are free of harsh chemicals, fragrances and colorants, making them perfect for sensitive (or newborn) skin! |
These items would make a very touching gift for parents-to-be! Again, choose the ones made of organic cotton or wood finished with organic oil or non-toxic paints only.
To capture those precious little prints of hands and feet the non-toxic clay is safe and easy to use. 
And remember, whenever you select an environmentally-friendly and organic gift for your family and friends, you help to create a more healthful and joyful future for both them and the planet!